Training materials were tested in existing courses of VET providers. Each learning outcome tested with at least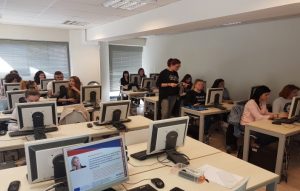 10 participants. Each partner pilot tested different LOs. The pilot application was implemented in Cyprus (MMC), Greece (DHMHTRA), Germany (VHS), Slovakia (ORBIS) and Spain (CIPFP) during the period December 2017-March 2018.
Demographics, training contents and trainees' evaluation each partner are presented below.
Partners

Dates

Duration

Units

Level

Attendees

Trainees' Evaluation

MMC

08-12/01/2018
79 hours
4.1-4.12

4.15

4.17-4.22

4
19
4.50
Men

5

Women

14

ORBIS

08/12/2017 &

11-14/12/2017

37 hours
3.2-3.3

3.10-3.12

3.22

3.26

3.27

3

11

4.79
Men

5

Women

6

CIPFP

22/03/2018

26/03/2018

27/03/2018

28/03/2018

37,5 hours
3.1

3.4-3.7

3.13

3.21

3.28

3.34

3

11

4.24
Men

6

Women

5

VHS

05/12/2018
4 hours
5.1-5.8
5
15
4.61
Men

1

Women

14

DHMHTRA

05-08/03/2018

40 hours
3.8-3.9

3.14-3.20

3.23-3.25

3.29-3.33

3
30
4.88
Men

6

Women

24