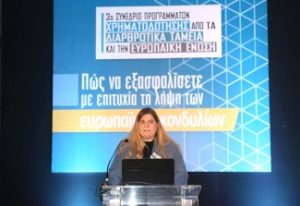 EUPA_NEXT was presented during the conference < Third Conference on funding Programmes from the Structural Funds and the European Union>.  The conference took place on the 1st of February 2017 at the Hilton Park Hotel in Nicosia.
Companies and other organisations that are active in the areas of tourism, technology, agriculture, training, as well as small-medium companies and start ups participated in the conference.
The project EUPA_NEXT was presented by Ms Christiana Knais. EUPA_NEXT is based on the application of European Tools in the area of Vocational Education and Training such as EQF and ECVET.  During the conference hints and tips for submitting a successful application were also presented.
EUPA_NEXT t is funded through ERASMUS+ , Key Action 2- Strategic partnerships for innovation and exchange of best practices in the area of Vocational Education and Training.
The project consortium thanks IMH for the invitation.